Support us and our Sponsors!
Support us through Donation
Music touches all our lives. It brings us joy, allows us to dance, it can be the medicine of the mind and the voice of the soul.
Grand Mesa A Cappella Chorus is a nonprofit chapter of Sweet Adelines International that sings four part harmony. We share our music with the grand valley and surrounding communities. 
Every dollar raised helps for chorus expenses including such things as Awarding an Annual Music Scholarship, buying music, paying for coaching & other music education and paying for music contest expenses.
Please consider a donation to help Grand Mesa A Cappella keep music alive in the grand valley and surrounding communities. 
Supporting and Supporters
We appreciate our sponsors and all of you who give them your business.  Our current sponsors are listed below.  Please thank these sponsors by visiting them today!
If you love Grand Mesa A Cappella Chorus and want to see this amazing group of women thrive, we'd like to invite you to become an annual or permanent corporate sponsor as well.  Email us today for additional information: grandmesaacappella@gmail.com 
You can also support us by making us your charity for Amazon Smile. 
Our Charity Name is: Grand Mesa Chorus of Sweet Adelines International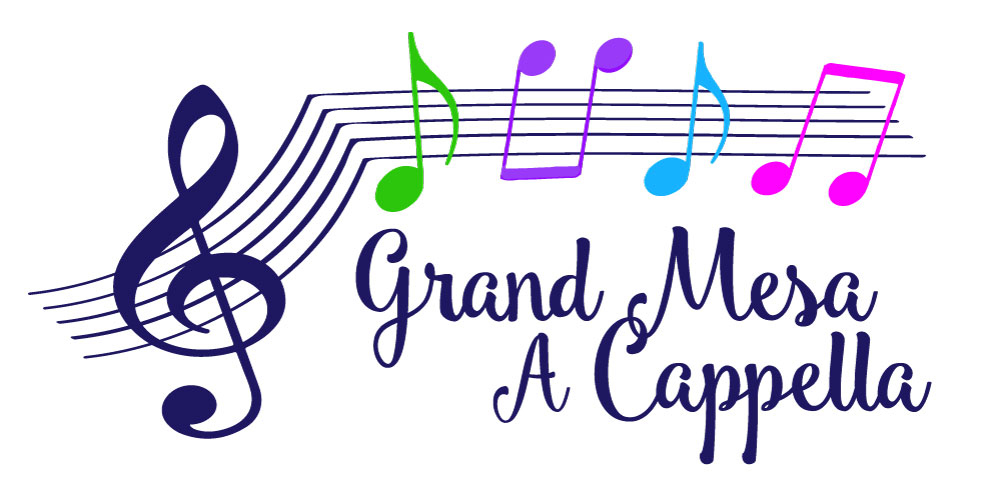 A Special Thanks to our Amazing 2019-2020 Sponsors
Charles and Robbie Breaux, Davita Dialysis Center
Alpine Bank – Delta, MBC Grand Broadcasting, Cindy Dickey, Property Manager/Real Estate
Active Insurance Solutions, Splish Splash Car Wash, Rottman Eye Care, PC, Office Outfitters, The Title Company of Delta, Whitewolf Cabinets, Pinnacol Constructors & Specialties, Inc.
Alpine Bank – Grand Junction, Bray & Company, Inc., Freedom Construction, Grand Junction, Grand Valley Books, Home Loan Insurance Co/Richard Englehart, In memory of Charles Marvel, Inside Story/Carpet One, James and Rochelle Quackenbush, Laurie A Stein DDS, Claudia McFate, Roper Music Sales & Service, Sarah's Salon, Sharon Madson, The Trophy Case, Thomas Hunn Co Inc., Western Anglers, Yost Family Dentistry  
 Benge's Shoe Store, Big John's Ace, Board & Buckle, Brady Chiropractic Group, PC, Delta Hardware, Fisher's Liquor Barn, Inc., Hellman Motor Inc, In memory of Carl Mitchell, J B Hart Music, In memory of Paul Boyd, Monkey Business Tree Service, Mark Ryan DVM, Orchard Mesa Veterinary Hospital, Lou Diluzio, Mary Kay Ind. Beauty Consultant, Mike Lowenstein, The Sunflower Room
Amanda Horst, Massage Therapy, American Family Insurance/John Geer Agency, Ameriprise Financial, Spriggs & Sprouts of Western CO, Cedaredge Land Company, William Emert, Hot Streaks, Snap Photo, Travis Tuma – Financial Advisor, Edward Jones
During September you can support us by purchasing our famous fall nuts. Just contact any member and enjoy our delicious creations. You'll soon be wishing for more. Trust us! They're quite popular. 
We are affiliated with Sweet Adeline International. A 501(c)3 non-profit educational organization based in Tulsa, Oklahoma. Gifts are tax deductible to the extent allowed by law. Please check with your tax adviser concerning any tax concerns you may have regarding your gift.
WHEN
Monday at 6:30 pm
WHERE
527 Village Way, Grand Junction, CO 81507
VISITORS ARE ALWAYS WELCOME! 
Get In Touch With Us!
Don't be shy. We want to hear from you!
PHONE
(970) 256 – 9763
EMAIL